Discover the Finest Napoleon Grills in Naples, Florida – Elevate Your Outdoor Cooking Experience.
Are you a grilling enthusiast who loves the sizzle of perfectly cooked steaks and the aroma of delicious barbecued dishes?

Look no further than Great Walls Of Fire in Naples, Florida. We are proud to offer an extensive range of Napoleon grills, renowned for their exceptional performance, durability, and innovative features.

Elevate your outdoor cooking experience with Napoleon grills and turn your backyard into the ultimate entertainment hub.
Napoleon is another reputable brand that offers a diverse selection of electric fireplaces. Known for their attention to detail and craftsmanship, Napoleon fireplaces combine elegance and functionality.


With their unique design features, such as multicolored flame options and customizable flame speeds, Napoleon electric fireplaces allow you to create a truly personalized and enchanting atmosphere in your living room.
The Perks of Napoleon Grills
Unparalleled Performance & Durability: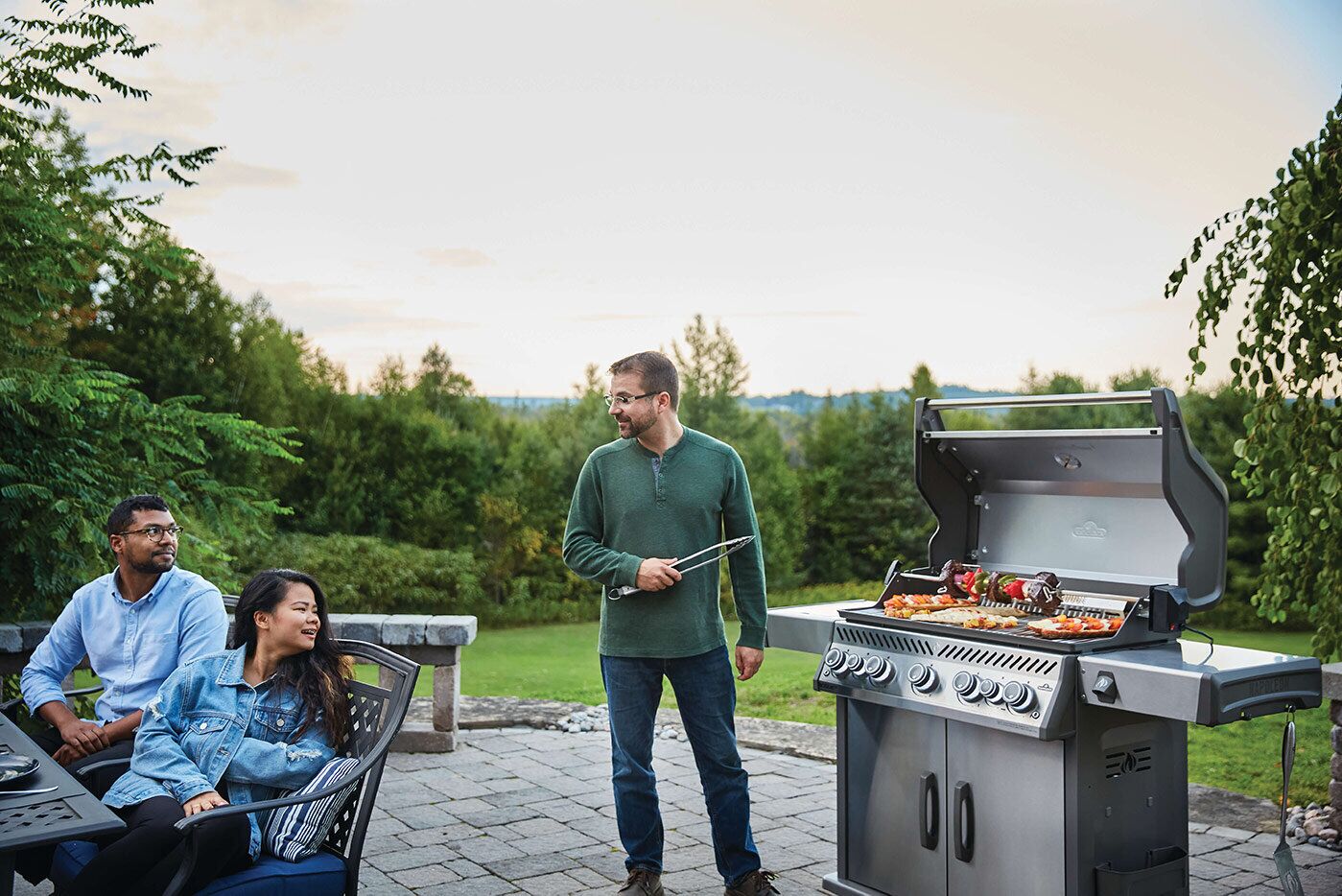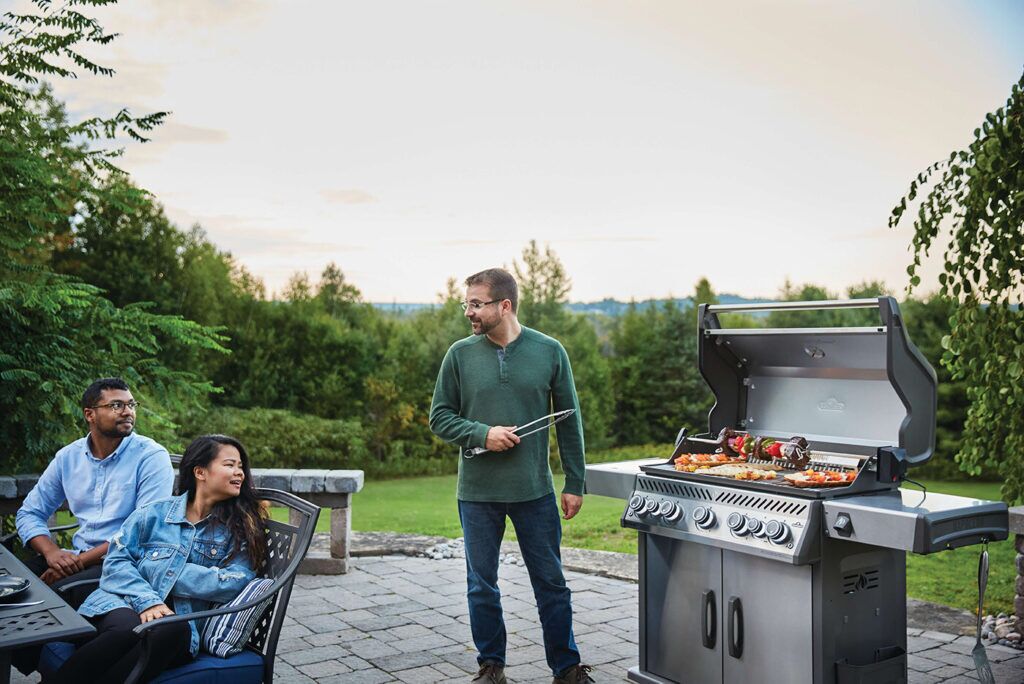 Napoleon is a leading brand in the world of outdoor grilling, known for its commitment to quality and performance. Napoleon grills are crafted with precision engineering, utilizing premium materials that ensure durability and longevity.

Whether you're a weekend griller or a seasoned pit master, Napoleon grills deliver consistent heat distribution, precise temperature control, and exceptional cooking results.
Versatility for Every Grilling Enthusiast: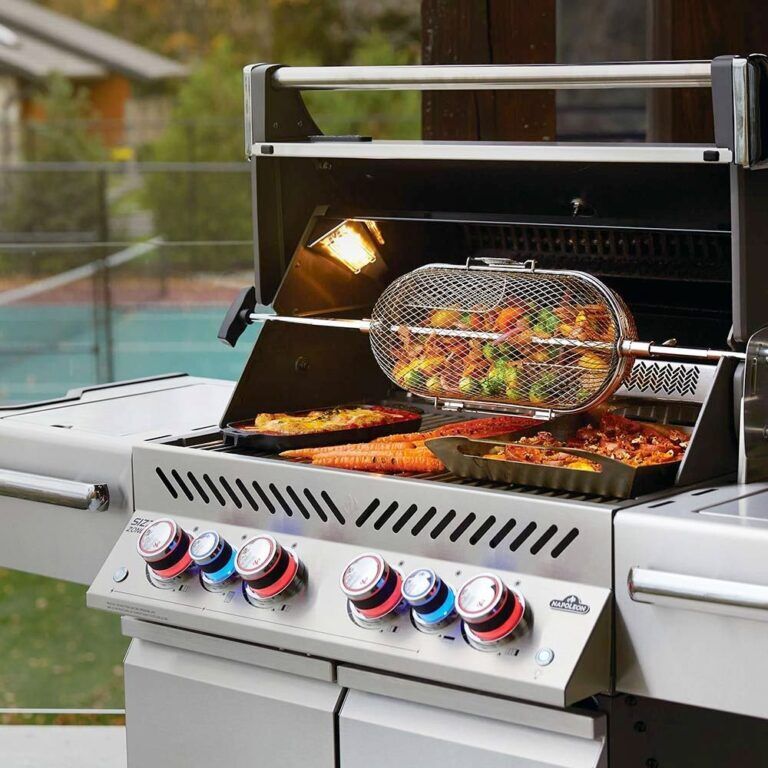 Napoleon offers a diverse range of grilling options to cater to the needs and preferences of every outdoor cooking enthusiast. From compact portable grills to full-sized gas and charcoal grills, Napoleon has a solution for any space or occasion.

Their product line includes innovative features such as infrared burners, rotisserie kits, side burners, and smoker boxes, allowing you to explore endless grilling possibilities.
Unleash Your Culinary Creativity: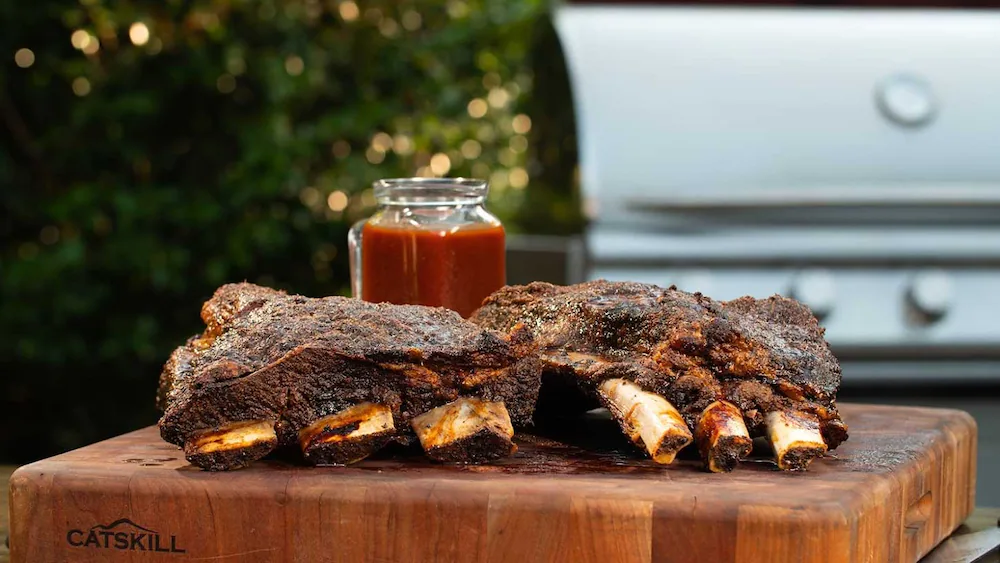 With Napoleon grills, you can unleash your culinary creativity and impress your family and friends with a wide variety of dishes.

From juicy burgers and succulent ribs to perfectly seared steaks and delicate seafood, these grills provide the versatility and performance needed to elevate your grilling game.

Whether you're hosting a casual backyard barbecue or preparing a gourmet feast, Napoleon grills ensure delicious results every time.
Top-Selling Outdoor Grill Models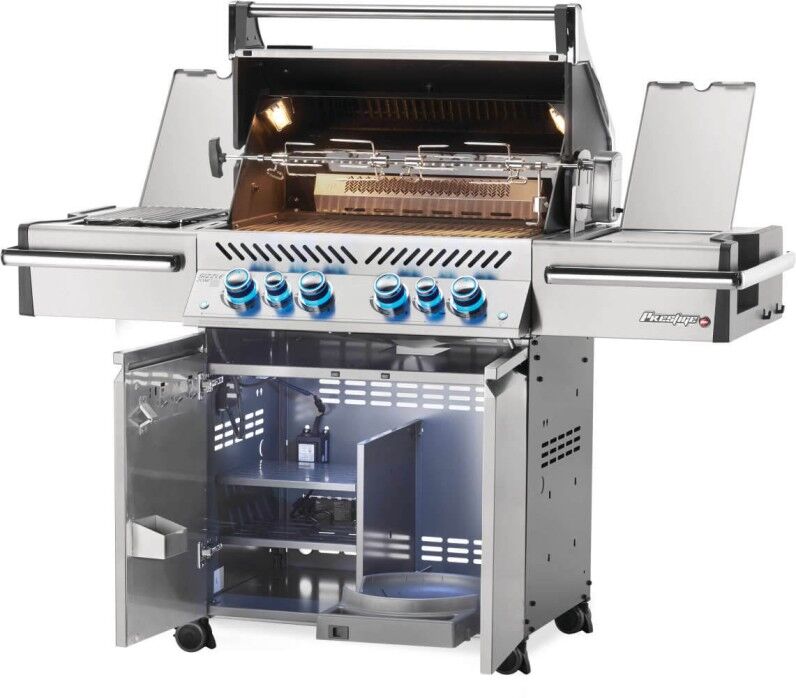 Convenient Storage: The grill's spacious storage cabinet keeps your BBQ accessories organized. Interior lights help you find what you need, and soft-close doors prevent slamming and wear on the cabinet.

Easy Cleaning: The dual-level, stainless steel sear plates catch and vaporize food drippings, protecting the burners and making cleaning a breeze. The heavy-duty lid holds in heat and creates a convective cooking area.
WITH INFRARED SIDE AND REAR BURNERS
Powerful Performance: With 6 burners and 80,000 BTU's, our Napoleon Grill delivers impressive grilling power for outstanding results every time. Its 900 square inches of grilling area provide ample space to cook for a crowd.



Maintenance-Free Cooking: The 9.5 mm thick stainless steel cooking grids are not only durable, but also require minimal maintenance. Their unique wave shape ensures even heating and creates delicious sear marks.

Smart Design: The Napoleon Grill features large side shelves for convenient prep and staging space. The integrated infrared sear station is protected, while the right side shelf includes an integrated ice bucket and cutting board for added functionality.

Instant Ignition: Our grill ignites instantly with a battery-free ignition system, lighting the burners with a jet of flame for quick and effortless starting.

Built to Last: Crafted from stainless steel with chrome details, our grill withstands various weather conditions, resisting corrosion and ensuring long-lasting performance.

Perfect Searing: The integrated sear station uses infrared heat to produce high temperatures, delivering restaurant-quality sear marks on your steaks. It can also be used as a versatile gas side burner for sauces, side dishes, and frying.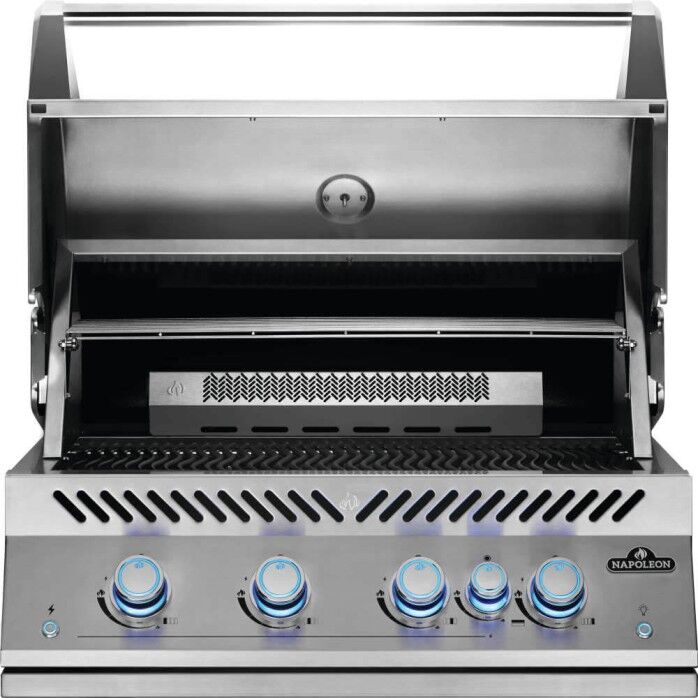 Precise Temperature Control: With precise temperature control and the ACCU-PROBE™ temperature gauge, you can confidently sear, smoke, roast, rotisserie, and bake with ease. Achieve the perfect level of heat for your desired grilling results.
Convenient Planning and Installation: Planning and installation are made easier with a 2-inch (5.08 cm) tolerance for cut-outs. Enjoy a stress-free process and create the outdoor cooking space of your dreams.
Effortless Ignition: The 700 Series Grill features a battery-free ignition system that ignites the burners instantly with a jet of flame, ensuring a hassle-free grilling experience.
BUILT-IN 700 SERIES 32 RB
WITH INFRARED REAR BURNERS
Exceptional Performance: With 66,000 BTU's, 4 Stainless Steel Main Burners, and 1 Infrared Rear Rotisserie Burner, our 700 Series Grill delivers impressive grilling power. The generous cooking area of 29.5-inches x 18-inches (74.93 cm x 45.72 cm) provides ample space to cook your favorite dishes.

Maintenance-Free Cooking Grids: The 0.354-inch (9 mm) thick stainless steel cooking grids are not only durable but also require minimal maintenance. Their unique wave shape ensures even heating, prevents food from falling through, and creates exceptional sear marks for that perfect grilled flavor.

Easy Cleaning and Protection: Dual-level, stainless steel sear plates catch and vaporize food drippings, protecting the stainless steel tube burners and keeping your grill cleaner. Say goodbye to grease flare-ups and enjoy effortless cleaning.

Rotisserie and Storage Convenience: The BIG32 32-inch Built-In Gas Barbecue Grill includes an infrared rear burner and a commercial-grade rotisserie kit for perfectly spit-roasted meals. The integrated rotisserie storage allows safe and easy storage of the kit under the barbecue, keeping everything organized and within reach.

Enhanced Control and Ambiance: The ergonomically designed control knobs are backlit, providing both ambiance and safety. They glow in a glorious blue color and change to red when the burners are in use, adding a touch of elegance to your grilling setup.

Easy Installation and Design: The Built-In 700 Series 32-inch Gas Grill is designed for easy installation, featuring integrated trim and longer electrical wiring. This not only increases functionality, but also reduces design restrictions, ensuring seamless integration into your outdoor kitchen.
Experience Grilling Excellence at
Our Showroom...
At Great Walls Of Fire, we are passionate about providing you with the finest grilling solutions, and our grill page has showcased the exceptional features and performance of our premium grills. Now, it's time to take your grilling journey to the next level by visiting our showroom in Naples, Florida.

When you step into our showroom, you'll be immersed in a world of culinary possibilities. Explore our wide range of high-quality grills, including the Stainless Steel 700 Series 32-inch Propane Gas Grill and other renowned models by Napoleon.

Our knowledgeable staff will be there to guide you through the options, answer your questions, and help you find the perfect grill that suits your needs and preferences.
Beyond the remarkable grills, our showroom offers a unique opportunity to see the craftsmanship and attention to detail up close. Get a firsthand look at the sleek designs, durable construction, and innovative features that set our grills apart. Feel the quality of the materials, experience the ease of use, and envision the mouthwatering dishes you'll create in your own backyard.
Our showroom experience goes beyond the products.
We are committed to providing exceptional customer service, ensuring that you have a seamless and enjoyable journey from selection to purchase. Our team is dedicated to helping you make informed decisions, providing expert advice, and ensuring that you leave our showroom feeling confident in your choice. Come visit us today!